History of the Guild Merchant
The right to hold a Guild Merchant was conferred by King Henry II upon the Burgesses of Preston in a charter of 1179; the associated Preston Guild is a civic celebration held every 20 years and 2012 is another Guild year. It is the only Guild still celebrated in the UK and as such is unique.
Before 1328 a celebration had been held on an irregular basis, but at the guild of that year it was decreed that subsequent Guilds should be held every 20 years. After this, there were breaks in the pattern for various reasons, but an unbroken series were held from 1542 to 1922. A full 400 year sequence was frustrated by the cancellation of the 1942 Guild due to World War II, but the cycle resumed in 1952.
Guild week is always started by the opening of the Guild Court, which since the 16th century has traditionally been on the first Monday after the feast of the Beheading of St. John the Baptist (the decollation of St John the Baptist) celebrated on 29 August. As well as concerts and other exhibitions, the main events are a series of processions through the city. Numerous street parties are held in the locality.
The 2012 Guild formally opened on 2 September with a mayoral proclamation and the return of "friendship scrolls" that had travelled the world. Highlights in the programme for the 2012 celebration included two concerts in Avenham Park - one by Human League and another, a "Proms In The Park", featuring José Carreras, Katherine Jenkins and the Manchester Camerata.
Reproduced courtesy of Wikipedia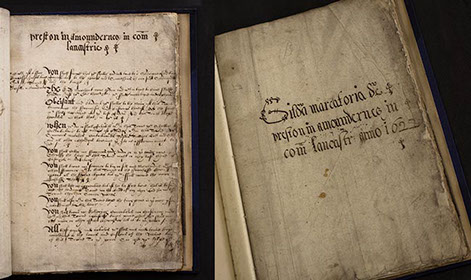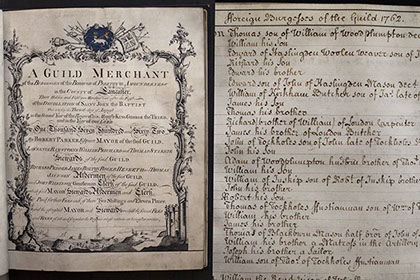 One of the early Guild Rolls from 1622, everything still in Latin. All the Guild books are stored at the County Hall Records & Archive office.
This one from 1762, hundred years later and much more illustrative and all in the English language. Still very mono coloured, with the only hint of colour on the Preston seal.
Preston Guild 2012 book
I was commissioned by Preston City Council to produce the 2012 Preston Guild Book, which is a 'one-off' publication of principally a list of Burgesses, Aldermen and everyone who have had any involvement and contribution to producing the 2012 Preston Guild.
Page size is 410 x 320mm and it is entirely hand painted and written. There are numerous introduction pages which are very 'design heavy', so a design template/theme has been created before designing each individual page. The completed book is leather bound with Gold Leaf tooling on the front and spine by Peter Doyle, professional bookbinder whose workshop can be seen in Unit 5 in Worden Park Craft Centre in Leyland.

web design: Northern Studios
copyright © Robin Utracik 2019
ROBIN UTRACIK • HERALDIC ARTIST •
10 BRIERY HEY, BAMBER BRIDGE, PRESTON, LANCASHIRE PR5 8HU
t: 01772 337599
e: robin@heraldic-artist.co.uk